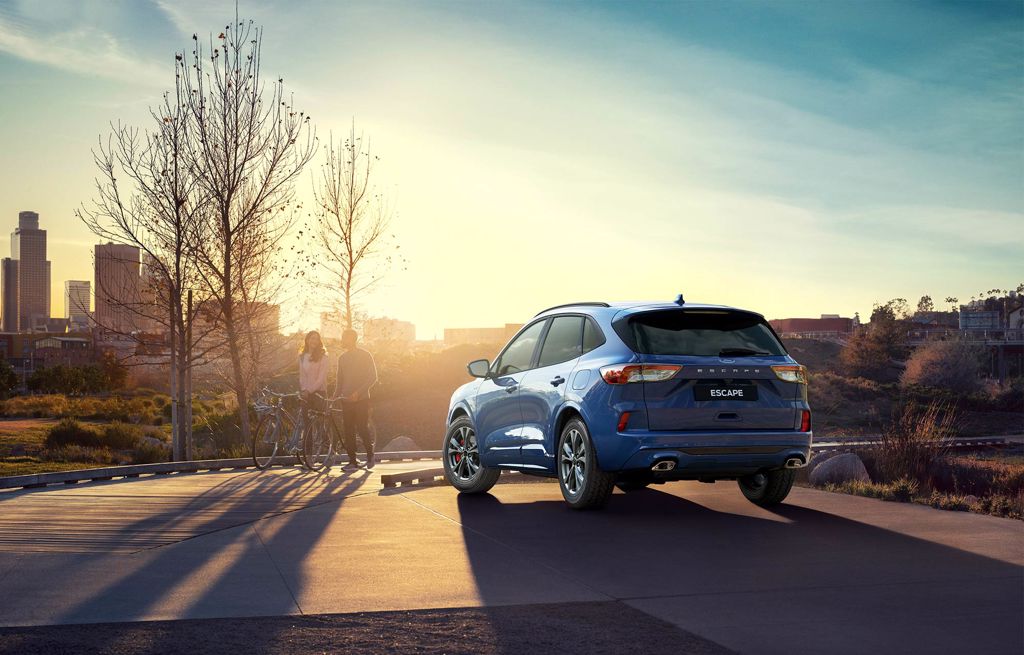 New Escape Hybrid SUV Powers into New Zealand, Offering Even More Choice to Customers
New, self-charging, full hybrid Escape Hybrid SUV seamlessly switches automatically between petrol-electric and pure-electric power to deliver effortless driving and up to 1,000 km range
Sophisticated 140kW full hybrid powertrain delivers ultimate convenience with cable-free charging. Simulated gear-shifts and optional Intelligent All-Wheel Drive enhance fun-to-drive dynamics
New Escape Hybrid models join the recently launched Escape PHEV from Quarter 2, 2022.
Ford is further expanding its line-up of electrified new Escape SUVs with the new Ford Escape Hybrid – able to deliver up to 1,000 km1 of petrol-electric and pure-electric driving between fill-ups and without ever having to plug in to recharge.
"Now with a full hybrid coming to join the plug-in hybrid, Escape customers will have an excellent range to choose from that that they can match to their particular needs – offering smart capability alongside great fuel economy and low emissions," said Simon Rutherford, Managing Director, Ford New Zealand.
Effortless to own, the self-charging Escape Hybrid's 1.1 kWh battery is automatically replenished both by the 2.5-litre Atkinson cycle petrol engine and using regenerative charging when coasting or braking. Stored energy powers an electric motor to enhance performance, support petrol engine fuel efficiency, or deliver pure-electric driving. Escape Hybrid automatically switches seamlessly between power configurations according to the driving scenario.
The ST-Line and ST-Line X Hybrids are also the first Escape models to combine an electrified powertrain with the option of Ford's sophisticated Intelligent All-Wheel Drive 2 technology, for an optimised driving experience.
Escape practicality, Hybrid flexibility
The new Ford Escape was developed from the ground up to incorporate electrified powertrains, using efficient packaging to maximise SUV spaciousness and practicality, and support driving refinement.
Silent key start capability enables the Escape Hybrid to pull away from a standstill using electric power alone for a truly relaxing driving experience, particularly in city and stop-start driving scenarios. The full-hybrid powertrain supports pure-electric driving for short periods while eliminating range anxiety.
The ability to travel up to 1,000 km on a single tank of fuel makes Escape Hybrid a compelling customer choice. Delivering fuel efficiency from 5.4 l/100 km and CO2 emissions from 125 g/km WLTP (5.1 l/100 km and 118 g/km CO2 NEDC) 3 alongside a 54-litre fuel tank.
With no need for customers to use an external power source to charge the battery, Escape Hybrid offers an attractive choice for customers desiring an electrified powertrain, but who have limited access to external charging solutions at home or places of work – as well as drivers desiring both electrification and Intelligent All-Wheel Drive.
The 60-cell, 1.1 kWh battery pack uses a liquid cooling system that eliminates the need for a cooling fan, helping reduce noise levels for greater cabin refinement. Optimised cooling also allows battery cells to be packaged closely together – helping retain spacious interior dimensions including more than 1 metre of headroom for front row occupants and up to 1,481 litres of cargo space behind the front seats. 4
Ford Intelligent All-Wheel Drive
Escape ST-Line & ST-Line X Hybrid are available with Ford Intelligent All-Wheel Drive, which measures how the car's wheels are gripping the road surface and automatically adjust torque delivery between the front and rear drive for a more secure footing on the road. The technology has minimal impact on fuel efficiency, and an all-wheel drive disconnect feature further supports optimised fuel efficiency by automatically reverting to front-wheel drive in favourable driving conditions.
More relaxing journeys
The Ford Escape, offering a wide range of driver assistance, comfort, and convenience technologies, is now available to order in a comprehensive line-up, including:
Escape FWD Hybrid
Escape ST-Line FWD Hybrid
Escape ST-Line AWD Hybrid
Escape ST-Line X AWD Hybrid
Pricing of the new Escape Hybrid will be available closer to arrival in Q2, 2022.
Peace-of-mind Warranty
All new Escapes come with Ford's five-year, unlimited kilometre full factory warranty. Further adding to the ownership experience, Ford Service Benefits also bring Escape owners Roadside Assistance as well as a Service Loan Car and sat-nav mapping updates where available.
Stay up-to-date with the latest Ford news.
1 Potential driving range calculation based on fuel efficiency from 5.4 l/100 km WLTP (5.1 l/100 km NEDC) and 54-litre petrol fuel tank capacity.
2 Driver-assist features are supplemental and do not replace the driver's attention, judgment and the need to control the vehicle.
3 Escape Hybrid front-wheel drive fuel efficiency from 5.4 l/100 km, CO2 emissions from 125 g/km WLTP (from 5.1 l/100 km and 118 g/km NEDC) is based on UK spec vehicle. NZ models are to be confirmed.
4 Cargo and load capacity limited by weight and weight distribution.

News