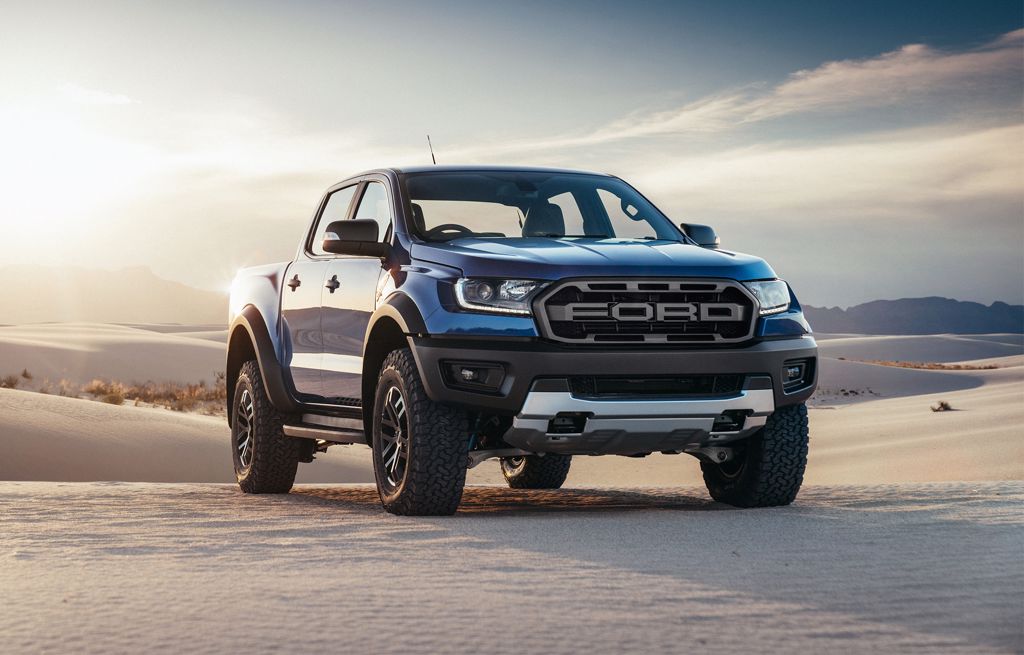 First Ford Performance Ranger Raptor to be priced from $84,990
Ranger Raptor to be priced from $84,990 ahead of arriving in New Zealand showrooms Q3 2018.
The wait is over: New Zealanders will be able to order a Ford Ranger Raptor in 2018 from $84,990 with genuine Raptor DNA as the new hero model for the Ranger line-up, following its global reveal in Bangkok, Thailand, in February this year
The Ranger Raptor answers the call for a Ranger with even more character, individualism and genuine off-road capability, reflecting the broader use of utes beyond traditional workhorse duties to a highly charged, lifestyle vehicle

The Ranger Raptor will be introduced following extensive testing at Australia's You Yangs Proving Ground and in remote locations across the globe, with Ford Australia engineers and designers playing a crucial role in its development


Ranger Raptor will build on Ford's truck and ute heritage, with roots back to Lewis Bandt's 1934 Coupe Utility through to the current Ford Ranger line-up, New Zealand's most popular vehicle
AUCKLAND, April 9, 2018 – The first-ever Ford Ranger Raptor is the ultimate expression of the Ford Ranger, and will be available for New Zealand off-road enthusiasts as a bold entrant in an all-new niche.
It will go on sale in late 2018 with a Recommended Retail Price of $84,990.
"We're unbelievably excited and delighted to be able to confirm that the Ranger Raptor is coming to New Zealand in 2018," said Simon Rutherford, Managing Director Ford New Zealand. "The response to our announcement in September, and the interest from the global reveal back in February to bring it to market at such an affordable price only adds to the anticpaition ahead of its arrival in local showrooms," said Rutherford.
Revealed at its official unveiling in February, the Ranger Raptor will lead the 2018 Ranger line-up and be offered in other markets around the world, just as Ranger is offered in more than 180 countries. Ranger Raptor will showcase Ford design and engineering expertise in conjunction with Ford Performance Raptor DNA that builds on Ford's strong truck heritage.
"Kiwis love the Ranger and there have been calls for a vehicle like the Ranger Raptor for some time," said Rutherford. "The Ford design and engineering team has worked incredibly hard with Ford Performance on this truly unique program to deliver a product that will live up to the Raptor DNA, and the high expectations of the hard-working New Zealanders who've called for such a vehicle."
Raptor DNA: A force to be reckoned with
The Ford Ranger Raptor is Ford's first performance ute for New Zealand. It comes with exclusive features unique to the segment, and has been developed to deliver the ultimate performance experience for off-road users.
The current Ford Ranger is the market leader in New Zealand – in the ute segment and as overall vehicle. The Ranger Raptor builds on the inherent qualities of the Ford F-Series Raptor, but brings with it the Tough Done Smarter elements that Ranger delivers to New Zealand.
Ranger customers are increasingly using their vehicle for both work and recreational purposes, including off-road drives, and Ranger Raptor answers that call. Leveraging Ford's engineering experience in building tough trucks and global engineering expertise in performance vehicles, the Ranger Raptor is an extremely capable off-roader built on customer feedback from Ford's performance and truck products, both in New Zealand and around the globe.
The Ranger Raptor has been developed for customers who desire a pick-up truck that delivers an unmistakably unique statement. The Ranger Raptor is made for off-road enthusiasts who appreciate an outdoor lifestyle and seek out the most extreme terrain, demanding an authentic, truly capable vehicle that sets them apart from other off-roaders. Ranger Raptor is the result of this vision.
"It's clear that there's an appetite for a performance ute, and we've worked hard to deliver something that fits the bill as a genuine performance product," said Simon Rutherford. "The Ranger Raptor is the real deal: its unique engineering and performance aspects make it unlike any other Ranger – or any other truck on sale, for that matter."
Ranger Raptor: building on Ford's global truck heritage
Ford celebrated 100 years of trucks in 2017, and that expertise has been leveraged for the 2018 Ford Ranger Raptor. Earning its keep alongside the F-150 Raptor in other markets, the Ranger Raptor meets the stringent demands of Ford's global truck line while delivering the driver – and passengers – that genuine Raptor DNA.
"This is a fully warranted, factory performance vehicle," said Ranger Raptor Chief Program Engineers, Damien Ross. "While Raptor DNA calls for extreme performance, the vehicle must meet the regulations, demands and expectations in terms of ownership experience that all of our products are measured by. That's no mean feat."
Throughout this rich history, Ford has continuously worked to improve its trucks by listening to owners and developing innovations that improve their ability to get the job done. These innovations give today's Ford truck owners greater towing and cargo carrying capability, advanced engines for improved efficiency, and driver-assist technologies that make them more convenient to drive and own. Ranger Raptor owners will benefit from this legacy.
The first-ever Ford Performance Ranger Raptor will be on sale in New Zealand in late 2018.
News