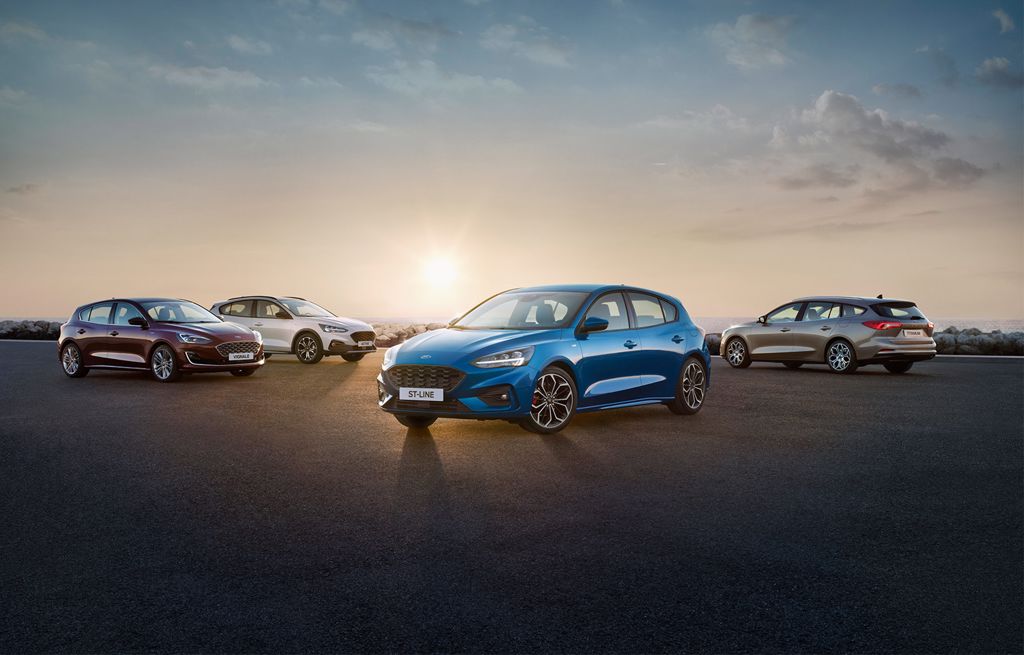 Made-in-Germany: New Ford Focus coming to NZ in 2018
New German-made Ford Focus to bring driver-oriented, high quality and technically advanced vehicle line-up to New Zealand customers.
The new clean-sheet, German-made Ford Focus range will launch in New Zealand in late 2018 with advanced technology and a fresh new look for one of the world's best-selling nameplates
Standard Autonomous Emergency Braking with Pedestrian Detection and Lane Keeping Aid will be joined by an advanced suite of available Driver Assist Technology, including optional Adaptive Cruise Control with Stop & Go capability
Focus will offer two new-generation three-cylinder powerplants including a brand-new 1.5-litre EcoBoost engine, and a new eight-speed torque-convertor automatic to deliver improvements in efficiency, drivability and lower running costs
Focus benefits from state-of-the-art technology, with sophisticated cutting-edge manufacturing techniques and construction enabling improvements in fit, finish and overall quality
AUCKLAND, New Zealand, April 11, 2018 – Ford New Zealand will bring the most advanced, highly equipped and freshly styled Ford Focus to New Zealand customers in late 2018. The new German-made Ford Focus will bring the latest safety, technology and European sophistication to more New Zealanders looking for a dynamic, practical passenger car.
"The Ford state-of-the-art plant in Germany will become the single-source for our entire Focus range," said Ford New Zealand Managing Director, Simon Rutherford. "Judging from the highly-sophisticated and praised Fords from the same plant, current Focus ST and Focus RS models, it's going to mean great things for the entire line."
ALL-NEW FORD FOCUS: SMART, SOPHISTICATED, SETTING THE STANDARD
The first vehicle to be built on Ford's clean-sheet C2 global platform, the new Ford Focus sports a sophisticated new chassis with advanced driving technologies with the goal of providing an energetic, engaging and rewarding fun-to-drive experience with increased powertrain and cabin refinement.
The all-new Ford Focus continues the tradition of being a groundbreaking, standard setting vehicle in terms of safety, technology and value for money by offering a host of advanced features in an stylish package.
Focus will have Autonomous Emergency Braking with Night-time Pedestrian and Cyclist Detection as standard across the range. This technology is designed to detect people in or near the road ahead, or who may cross the vehicle's path. The system automatically applies the brakes if it detects a potential collision and the driver does not respond to warnings; is now also designed to detect cyclists and functions in the dark using light from the headlamps.
Focus will also come standard with a Rear wide-view camera, offering a near-180 degree view to the vehicle's rear for improved visibility when reversing from parking spaces or driveways.
Focus also introduces optional features previously only seen on high-end offerings, such as Adaptive Cruise Control (ACC) now enhanced with Stop & Go for effortlessly negotiating stop-start traffic.
ACC with Stop & Go helps the Focus maintain a comfortable driving distance from vehicles ahead and adjusts the vehicle speed using information from the on-board navigation system or as it senses changes in traffic conditions. ACC works at speeds up to 200km/h.
The new optional Stop & Go feature is designed to bring the vehicle to a complete halt when it detects stopped traffic using up to 50 per cent of total braking force, and automatically pull away if the stopping duration is less than three seconds. For stopping durations greater than this, the driver can push a steering wheel button or gently apply the accelerator to pull away.

Additional optional DAT designed to help Focus drivers avoid accidents and distraction include:
Evasive Steering Assist, designed to detect slower-moving and stationary vehicles ahead using radar and camera and provides steering support to enable drivers to manoeuvre around a vehicle if it detects that a collision is imminent. Operates at city and motorway speeds.
Blind Spot Information System with Cross Traffic Alert, designed to warn drivers reversing out of a parking space of vehicles detected that may soon be crossing behind them and can for the first time now apply the brakes to avoid or mitigate the effects of collisions if drivers do not respond to warnings

BODY AND SOUL: UNDER THE SKIN OF THE NEW FOCUS
The Ford Focus will offer a choice of fuel efficient and advanced engines, as well as a new quick-shifting eight-speed torque-converter automatic transmission.
Two engines will be the core of the Focus range; an entry-level 1.5-litre three-cylinder engine and a new 1.5-litre EcoBoost. The EcoBoost 1.5-litre is a turbocharged three-cylinder that develops high torque at low rpm for greater drivability, with advanced construction for improved efficiency. A combination of port fuel injection and direct fuel injection helps deliver high power and responsiveness alongside enhanced fuel-efficiency, with a particular increase in fuel-efficiency under light engine loads. This is further enhanced by Ford's industry-first cylinder deactivation application for a three-cylinder powerplant.
Mated to this engine is an intelligent eight-speed torque-convertor automatic transmission. This quick shifting and intuitive transmission features Adaptive Shift Scheduling (ASS). ASS identifies hard cornering, uphill and downhill gradients and adjusts the gearshifts accordingly, resulting in a more stable, engaging and refined driving experience.
NEW-GEN FOCUS: Manufactured in Europe
The all-new Ford Focus is manufactured using industry-first processes at Ford's Saarlouis assembly facility, Germany – delivering best-ever Focus quality and craftsmanship.
A new 6,000 metre2 hot-forming facility enables ultra-high-strength, lightweight boron steel components to be manufactured on-site, and is the first hot-forming production line in the industry to feature fully automated unloading for optimised efficiency.
Forty-metre furnaces use gas and magnetic induction to heat boron steel plates to 930 degrees C, making them pliable enough to be moulded by 1,250 tonne presses. The water-cooled plates are then precisely cut into their final shape inside special cells each containing a laser that slices through the boron steel with a 3,000 degrees C beam.
An advanced new form and pierce process improves fit and finish of the entire Focus front end by using cameras to measure the optimal location for the position of mounting holes, within tolerances of 0.1 millimetres. To ensure ultimate precision, a second camera system monitors the position of the apparatus and can adjust to tolerances of 0.1 millimetres to account for expansion and contraction in changing temperatures. The process enables mounting holes to be positioned with 0.5 millimetre accuracy.
The first Ford-application of a new laser-welding technology operates with greater speed, flexibility and efficiency, and is capable of delivering wobble-welded seams for more strength. Also introduced is advanced tri-focal laser-brazing – the fastest at Ford with an operating speed of 60 millimetres per second – for cleaner, stronger and more precise joints between roof and body side.
"Innovation in every area has helped us create an all-new Focus with unprecedented craftsmanship and delivering an unparalleled driving and occupant experience," said Joe Bakaj, vice president, Product Development, Ford of Europe. "The all-new Focus is the fulfilment of the Focus promise and as of today, sets the benchmark for others to follow. I am immensely proud of the team that has helped deliver what I believe is the best car we have ever made."
More detailed specification will be announced closer to the Ford Focus's New Zealand launch.
News