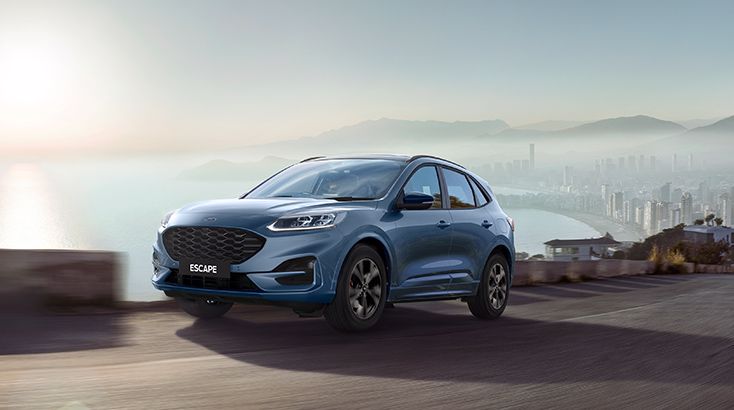 All-New Ford Escape - Coming Soon
Beautifully-simple design, remarkably efficient, more than capable small SUV.
Choose from Ford Escape Trend, Sporty ST-Line or Ford New Zealand's first Plug-in Hybrid SUV. The Plug-in Hybrid electric technology makes for a cleaner, quieter, more sophisticated approach to SUV driving.
With a host of intuitive driver assist technologies, and design features to compliment an active lifestyle, the 2020 Ford Escape fits effortlessly around your weekend getaways, your city commute, and everything else in your daily life.
Features



Hybrid, The Best of Both Worlds

Wherever the destination, the Escape Plug-in Hybrid SUV uses two sources of power to get you there more efficiently. An advanced electric powertrain lets you make shorter trips of up to 56km on zero emissions2, and can recharge anywhere you have access to mains power. For longer journeys, the conventional combustion engine ensures you can go as far as you need to, using powersplit technology to help recharge the Hybrid battery as you drive. While energy captured through regenerative braking also helps to extend your electric range even further.




Freedom To Just Drive

Intelligent Adaptive Cruise Control3 keeps you travelling at a speed you choose. If the built-in RADAR sensor detects a vehicle ahead, it slows your vehicle to maintain a safe distance. Then, once the road is clear, the system automatically accelerates back up to the chosen speed. Add that to the Lane Keeping System, which helps prevent unintentional drifts over the lines, and those long journeys become even more enjoyable.




Safety Comes First

Pre-Collision Assist with Pedestrian Detection3 uses intuitive camera technology to scan the road ahead. If a collision risk with a vehicle, pedestrian or cyclist is detected, it'll then provide you with a warning. If you don't respond in time, the system can automatically apply up to full braking force to help reduce the severity of, or even eliminate, some frontal collisions.
Gallery
Exterior
Interior
All-New Escape Line-Up
Escape 2.0L EcoBoost FWD
Escape 2.0L EcoBoost ST-Line
Escape 2.0L EcoBoost ST-Line
Escape 2.0L EcoBoost ST-Line X
Escape 2.5L FWD: PHEV
Escape 2.5L ST-Line X FWD: PHEV
Stay up-to-date with the latest on the All-New Ford Escape.
Contact Us Keep Me Informed Download Brochure
Overseas model shown. New Zealand specifications may vary. Please contact your preferred dealer for more details.